Philosophy &Science 13 Jul 2007 12:24 pm
American Scientist Online – Evolution, Religion and Free Will surveys eminent evolutionary biologists on their beliefs about religion, evolution and free will.
Quite an interesting read. I particularly like two ideas in the article. One reveals that most surveyed believe religion is a product of evolution and see no inevitable conflict between the two. The other idea is that having choice is not free will, because the choice is still predetermined. This is obvious, but I had been looking for a good way to describe this situation. Also, like most surveyed, I still conflate choice with free will. I may change this opinion if I ever get proof otherwise, until then my genetics demand that I assert my possession of free will.
Programming Languages &Science 26 Feb 2007 12:25 am
Video lectures from Daniel P Friedman's 60th birthday are online. I haven't gotten to watch many of them yet, but the video by Gerald Sussman was great.
Memorable quotes include: (these are paraphrases actually)
I don't use Mathematica, I use my own stuff, but I don't much care for Mr. Wolfram.
I read Arnold's Classical Mechanics book. Arnold was a son of a bitch, look what he wrote in this footnote.
Minsky said that programming languages were a great medium for expressing sloppily formulated ideas. This is in direct opposition to the guys who want to talk to me about Type Theory all day.
Humor &Math &Science 10 Feb 2007 12:45 pm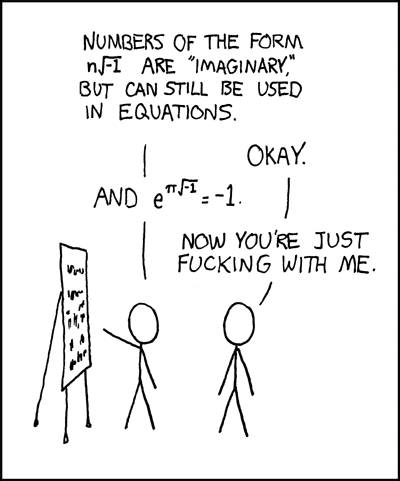 Some amusing comics from the XKCD strip, found at Classic XKCD strips. I particularly like the one above. And it is true, check at Google Calculator. But what does it mean?
This was originally found via a Silicon Valley Patterns mailing list post about a programming puzzle at: Facebook for their engineering candidates.
Math &Programming Languages &Science 29 Nov 2006 03:11 pm
Theoretical Computer Science Cheat Sheet. Actually, it is a handy collection of all kinds of useful formulas.
(Via Lambda the Ultimate.)
Programming Languages &Science &Software 30 Oct 2006 12:31 am
MLJVM: A Java Virtual Machine implemented in ML.
Interesting thesis on work done to develop a Java Virtual Machine in ML. I was hoping for them to do more with the functional nature of ML as a guide for my own work in implementing a Java analysis tools in functional languages, however they were pretty light on that topic. Still, it was a very interesting read to see how they built the VM.
Follow-on: Functional Java Bytecode talks about building a Java frontend for the FLINT system at Yale (Now part of SML/NJ). They parse Java bytecode into FLINT, and then compile it to native code while preserving type checking. Also, it is a form that supposedly makes data flow very clear, and they say it's fast. That could be very handy.